Research Theme
10. Membrane tubulation ability of phospholipase Cβ1 C terminal domain
Takehiko Inaba, Takuma Kishimoto, Motohide Murate, Takuya Tajima, Shota Sakai, Mitsuhiro Abe, Asami Makino, Nario Tomishige,
Reiko Ishitsuka, Yasuo Ikeda, Shinji Takeoka, and Toshihide Kobayashi
Lipid Biology Laboratory, RIKEN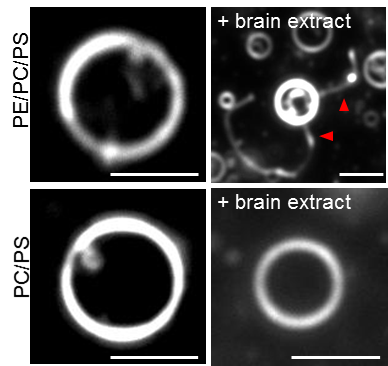 Lipid vesicle (liposome) based microscopic screening reveals that phospholipase Cβ1 (PLCβ1)induceslipid membrane tubulation. This activity is derived from the C terminal domains and did not require the N terminal lipase X-Y domain and lipid binding PH domain. The overexpression of PLC1 in cell also induced the plasma membrane tubulation (invagination, Fig. 2). The deletion of C terminal domains abolished the membrane localization and tubulation activity (Δ(C2-Gαq-Ctail)), whereas the mutation of lipase activity (H331A/H378A) did not affect them. The reduction of PLCβ1 by knockdown caused the significant reduction of caveolae formation and the induction of evagination in plasma membrane (Fig. 3). These results indicate that PLCβ1 play the role in plasma membrane morphogenesis, especially in the caveolae maintenance.
Fig. 1. Darkfield microscopy image of liposome tubulation induced by brain extract. Bars 5 μm

Fig. 2. PhospholipaseCβ1 induces plasma membrane tubulation. Bars 20 um.

Fig. 3. Phospholipase knockdown (KD) reduced the number of caveolae (black arrowhead) and induces the evaginatiion (red arrowhead) of plasma membrane.
【References】
[1] Takehiko Inaba, Takuma Kishimoto, Motohide Murate, Takuya Tajima, Shota Sakai, Mitsuhiro Abe, Asami Makino, Nario Tomishige, Reiko Ishitsuka, Yasuo Ikeda, Shinji Takeoka, Toshihide Kobayashi
Phospholipase Cβ1 induces membrane tubulation and is involved in caveolae formation
PNAS 2016:113(28):7834-9. DOI:10.1073/pnas.1603513113