Overview
Aim of this project
Recent dramatic change of our life style has been accompanied by the high incidence of diseases caused by excess lipids (such as atherosclerosis and heart disease) or the lack of specific lipids (such as autism and schizophrenia). Although lipids are well-known as essential components of cell membranes, our understanding of the roles of complex lipid organization is limited. The aim of this study is to understand the distribution, dynamics and function of lipids via interdisciplinary approaches through biochemistry, biophysics, organic synthesis, surface science, molecular science and simulation, and develop novel diagnostic, curative and preventing methods for the treatment and prevention from lipid disorders.
Difficulty of studying lipids
Unlike proteins, lipids are not the primary product of nucleic acids. In addition, the water-insoluble, yet amphiphilic nature of lipids adds an additional layer of complexity to these experiments. Because of these specific properties and shear number of lipid species, lipid research is lagging behind the research of proteins and nucleic acids. However, recent advances of mass spectrometry and microscope techniques enabled the study of metabolism, distribution and dynamics of individual lipid.
Research system
1 Advanced Lipidomics

Center for Sustainable Resource Science
Metabolome Informatics Research Team
Team Leader: Masanori Arita (D.Sci.)
lipid characterization
bio-, histo-and physico-chemical
2 Molecular Protein Lipidology

Cellular Informatics Laboratory
Chief Scientist: Yasushi Sako (D.Sci.)
lipid interaction
lipid-protein
3 Dynamic Lipid Physiology

Brain Science Institute, Laboratory for Molecular Membrane Neuroscience
Laboratory Head: Yoshio Hirabayashi (Ph.D.)
lipid function
metabolic and neuronal diseases
Collaboration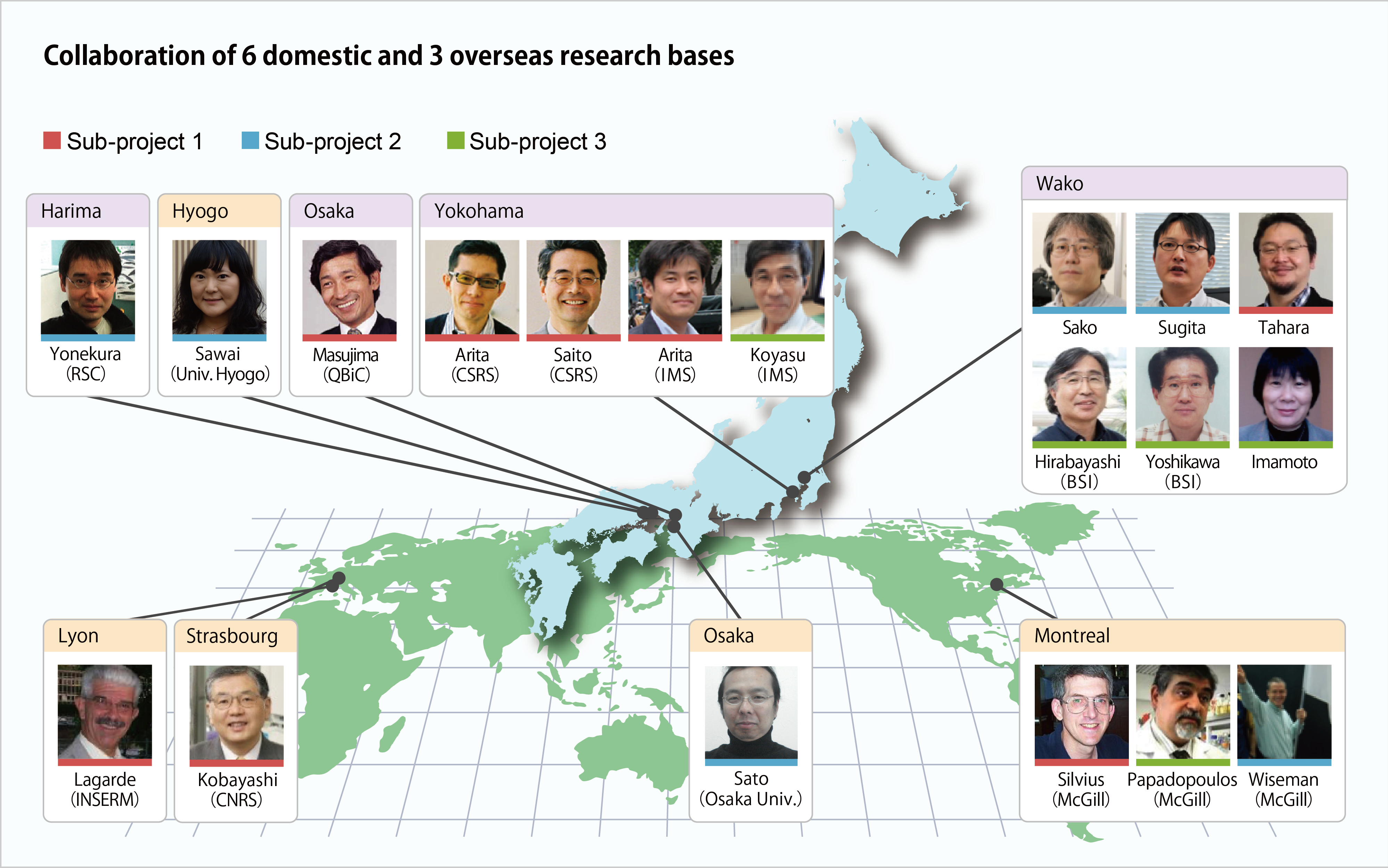 Technology
Single cell mass spectrometry - Kazuki Saito (Ph.D.)

Comprehensive lipid analysis - Kazuki Saito (Ph.D.)

Visualizing lipid molecules - Toshihide Kobayashi (Ph.D.)

Microstructure of the interface - Tahei Tahara (D.Sci.)

Single-molecule analysis - Yasushi Sako (D.Sci.)

Analysis of membrane protein - Shiro Yoshitsugu (D.Eng.)

Simulation - Yuji Sugita (D.Sci.)